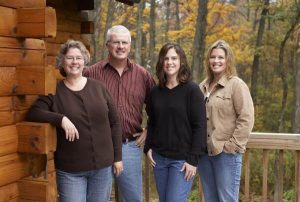 Welcome!  We are the Fishers of Todd Fisher Construction, formerly a representative for Kuhns Bros. Log Homes for 29 years, and now a proud representative for Timberhaven Log Homes, LLC.  We selected Timberhaven Log Homes because of their family values, experience in the lumber mill industry, and the kiln dried process.  Timberhaven Log Homes provides quality materials in one of the most complete package on the market.
We have been in the log home business since 1984 when we built our log home.  Since then, we have helped over 200 families like yours design and build their dream log homes.  Our goal is to build a quality home for a competitive price and exceed the customers' expectations.
The roots of Todd Fisher Construction began when Todd went to work for Fisher Bros. Construction building our own log home.  Fisher Bros. Construction was owned and operated by Lester & Clyde Fisher (Todd's father & uncle).  Their years of construction experience contributed to the success of Todd Fisher Construction.
We are a full service representative, providing the following services:
– Log & Timber Home Sales
– Floorplan Design
– Financing Assistance
– Full or Partial Construction
– Technical Assistance to Do-It-Yourself Projects
– Log Home Maintenance
– Log Home Stain Preservatives and Sealants
– Lumber & Material Sales
The Fisher family looks forward to making your log home dream a reality.
Sincerely,
The Fishers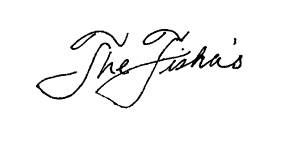 Step inside our website and learn how we can help to make your log or timber home dream a reality!
Timberhaven Log Homes – "Your Dream…Our Passion"
We are an authorized representative for Timberhaven Log Homes, one of the largest log home and log cabin manufacturers in the country. Timberhaven homes are constructed from kiln dried logs which makes them far superior to other log home manufacturers that do not use the true kiln-drying process when manufacturing their logs. Here are some more important highlights about the Timberhaven product:
Solid logs (average moisture content of 19%) or laminated logs (average moisture content of 9%).
A Limited Lifetime Warranty on our logs.
Our log home packages include name brand components such as Andersen windows and Therma-Tru Doors.
The most affordable, high quality log home and log cabin packages available.
The design staff at Timberhaven Log Homes has decades of experience designing log homes. We work with you to modify one of our existing plans or we can create a custom design to fit your needs.
You have the assurance of working with one of the largest log home brands in the country and the familiarity of a local company to make sure you get the log home you have dreamed of owning. .
You can browse our floor plans here and in our Gallery or on the Timberhaven Log Home Design Center site.